Connect to Your Soul for a Creative, Vibrant Life
November 24, 2015 @ 3:39pm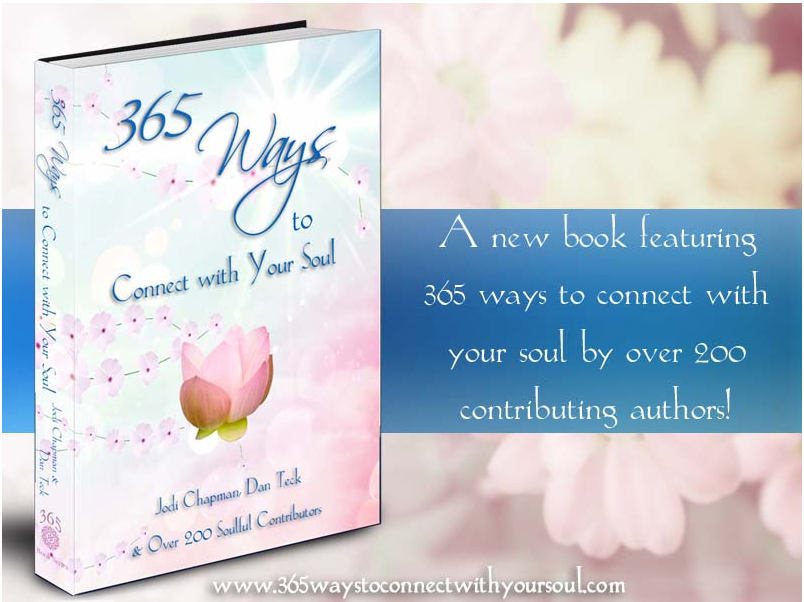 The heart of each of us – the soul – is so important. Connecting with your soul enlivens vibrancy in life, flow in creativity and joy that makes every cell in your body say 'yes!' to all that life has to give you.
This book—365 Ways to Connect with Your Soul (now an international bestseller, and one I'm honored to be an author in!)—gives beautiful and heartfelt stories, tips and techniques from 200-plus contributors. It's an inspiring collection of soulful connection and the myriad of ways we can connect. The lead authors, Jodi Chapman and Dan Teck, who put so much care and effort into making the book a polished work, are two highly connected people who work and live from the heart, and who create from a space of love. How can it get any more soulful than that?
When you connect with your soul—life brings you magic. In creativity, a soulful connection is so important; in a vibrant life, too. Paths open that you might never have before envisioned (or even dreamed might be possible!), and dreams really do come true.
Even if you're feeling a bit sluggish in life, or you have a hankering feeling that there's something more available to you—joy, peace, passion, an excitement and exuberance for life—connecting with your soul, and your truest self, can help.
To read my three chapters, and to nourish your soul with 365 days of connecting, you can purchase your book here: http://amzn.to/1SVNtrt
To celebrate this soulful book, here are insights from the three chapters in the book that can guide you to your soul's connection, that truest essence of you. And, just for fun, three soulful creativity and vibrant life tips, too!
The Wisdom of Self-Care
The soul will whisper to you—and it's up to you to listen. Your version of self-care can look like anything you want; for me, it was massages, long walks, listening to and tuning my body with yoga and healthy, nourishing food. Now I have an incredible essential oils protocol that keeps me feeling light, happy, lifted! Your body, mind and spirit have wisdom within them. It's up to you to listen. When you connect with and fulfill your wisdom of self-care, your soul and life feels so nourished! That's when the magic happens. That's when life brings you miracles.
Your creativity tip: Self-care and creativity walk arm in arm together, besties that make your creative life beautiful! Draw inward and listen. In writing and creativity, and when you connect with the wisdom of what you need, you'll receive the guidance to care for yourself in the perfect ways for you—and your writing and creative life will flourish!
Your vibrant life tip: Schedule time every week (or every day!) for self-care. It may be five minutes a day of reflective journaling, giving gratitude in the morning or throughout the day, or a mani-pedi that makes you feel fabulous! Whatever it is for you, go for it. You'll show up in your life with more vibrancy knowing you listened to the wisdom of your soul.
Listen to the Voice Within
There's a yearning within you, a knowing, greater than any other voices in the world—anything you've been taught, imprinted with, or learned along the way; it's all important, yet the most important voice: yours. In life, a lot of noise can chatter around you. Beneath all of that, is you. The real you, authentic you. The one that knows exactly what you need to live your most fulfilling life!
In Australia, many years ago, I heard my voice within, crystal clear. (The chapter tells you exactly what it said; grab your copy here!) I listened. And, I took action. The results have been phenomenal: soul love, success in my career (two international bestselling books this year?! so incredibly grateful), wicked courses and clients that I have so much fun working with—all up, joy in my heart!
Your creativity tip: Listen to the voice within. When you're a creative person, you are called to your art (writing, painting, design, whatever it may be). When you listen, your life lights up! If you don't listen, you'll keep getting the call, until you do (and then you'll wonder why you hadn't listened before).
Your vibrant life tip: The voice within will call you not only to creativity; it also calls you to show up fully in your life. Listen, and let every action you take be purposeful. Ask yourself: is this going to make me feel vibrant and alive? If yes, go for it! If no, ask yourself: how can I shift into a choice that makes me feel more vibrant? Listen for the guidance – and follow it. Your vibrant life will begin to flow like never before!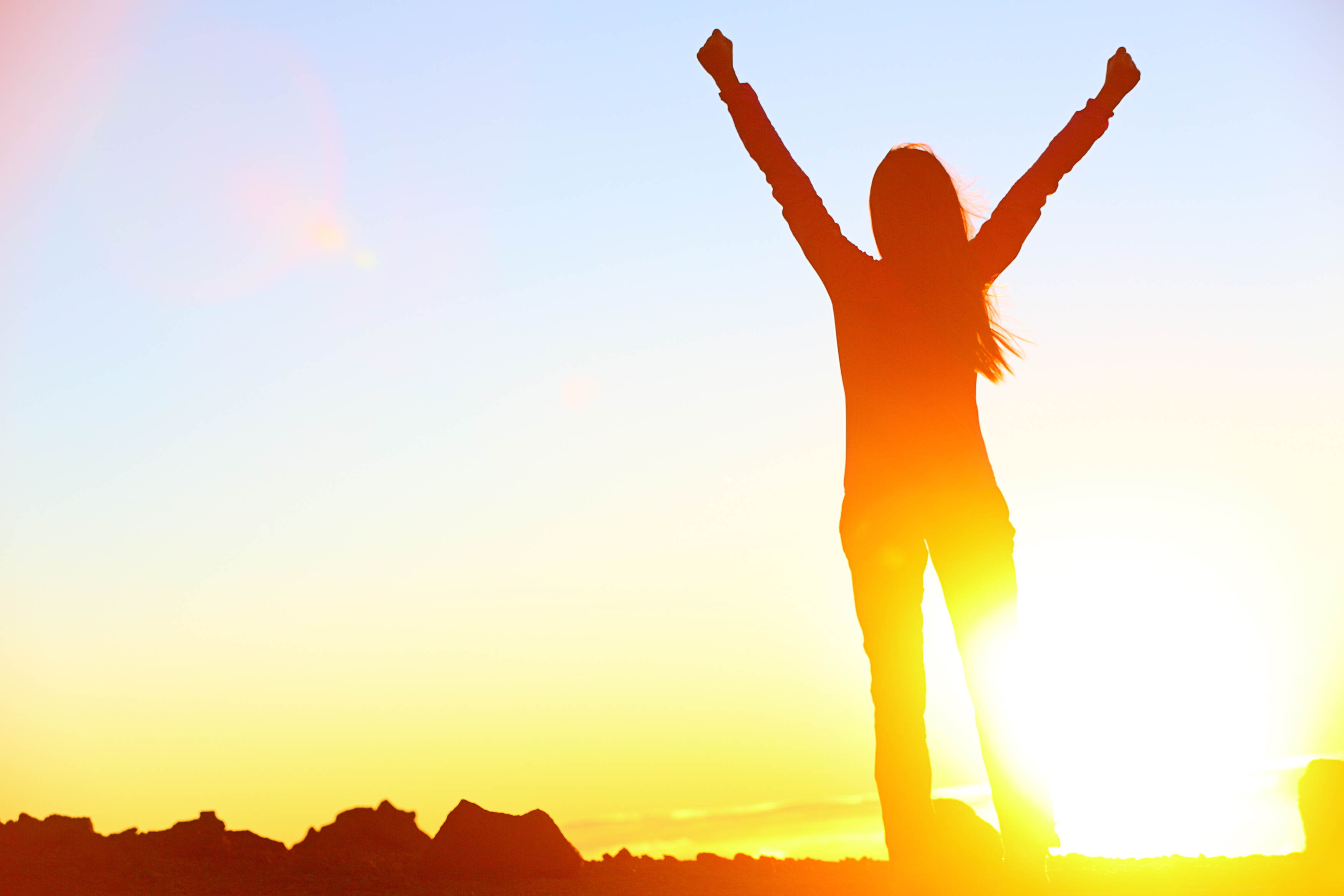 Follow Your 'Heck Yeah!'
(Or Hell Yeah!, whichever you prefer ☺) It's what lights you up! It's living and following that heck (or hell) yeah in your life. What livens your cells and makes you feel incredibly alive? Do it! On my journey (and as I share in my chapter, Follow Your 'Heck Yeah!'), I started to follow my inner yes!, and life transformed… so beautiful!
Your creativity tip: Tune into what lights you up in your creative process. Follow that. Love to write? Do it! Even five minutes a day of letting yourself write, and connecting with that writing flow, can liven up your life!
Your vibrant living tip: When you start to connect with what brings you joy, your life transforms! Look for what lights up your life. What do you do that you feel like you could do forever? Find yourself smiling silly while (fill in the blank), or feeling so at peace while (your peace journey here)? Do that more often. Enjoy the joy, and keep your sights set on what makes you feel great. Follow that flow—you'll be so glad you did!
To order your copy of 365 Ways to Connect with Your Soul, click here: http://amzn.to/1SVNtrt
If you've got a fave way of connecting with your soul, I want to hear it. Get the conversation started in the comments below!
Comments
Yes! I'd love to receive:
Free Tips, Info and Updates
on Writing and Living My Most Vibrant, Vital Life!