Tuning to Your Soul
August 28, 2015 @ 10:27am
It is imperative that we tune to, and nurture our souls. So often in life we race through – must-do this, race-to-do that – and we don't stop to listen to what's really calling us within. What brings us true joy, peace, passion and happiness? What connects us in with that greatest essence within? The soul.
It's important for writing; it's what will connect you with the best writing you've ever penned, words coursing through you, just waiting to fall onto the page (like liquid gold, and beautifully, exactly what they need to be, too!).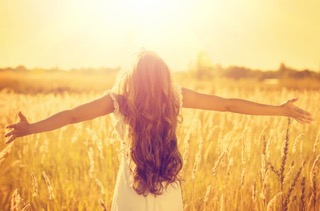 It's also important for life. It's what brings joy to an otherwise mundane day; what lights you up, makes you feel fabulous, gives you purpose, your soul.
Soulfully connected, you say YES! to that which calls you. A few days ago, amidst a whole lot of reasons why I thought 'I couldn't,' I found all the reasons—soulfully connected—why, 'yes, I can.' An opportunity opened in my life and I heard it, clearly, distinctly, a call to be more from the heart of who I am, my soul.
(There is a light within that will answer—hell YES! (or heck YES, if you prefer). It is loud, clear, vibrant and full of passion and purpose. When you listen, blissful moments arise, like this one, and that happiness of listening and saying YES.
To tune to your call of purpose and passion, it is so important you tune to your soul. Soulful practices, heartfelt, and here are just a few of the ways you can practice connecting in with what's within—listening, feeling, knowing, your soul.
Have a read of my Fitness Republic article, "Four Fab Practices for Your Soul," and let me know what you think. How do you best connect to your soul?
Till next time—tune in, soulfully,
Jenny
Xoxo
Ps - In writing, you'll create your best when you're tuned to your soul. Soul Marketing is a special module in my course, Become a Copywriting Rockstar, and the foundation of a course that will not only tune you to your soulful self; it'll also having you writing copy that rocks, and magnetizes your ideal clients right to you! Sound like something that can help you? Get more info here: https://goo.gl/L7Nvvn
Comments
Yes! I'd love to receive:
Free Tips, Info and Updates
on Writing and Living My Most Vibrant, Vital Life!