Make A Commitment to Your Craft
February 15, 2018 @ 1:27pm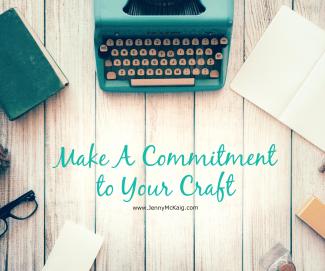 Whether you are a seasoned writer or an aspiring one, the commitment you make matters. It matters to those you are focused on connecting with and the message you convey, but it matters too on a deeper level that involves you.
Imagine for a moment your passion. Passion drives you to do things you may not otherwise have considered. It involves stepping outside of comfort zones and in some instances stretching limits. All of this, for the greater good.
For example, as parents, especially new ones, those middle of the night feedings or rocking babies to sleep despite sheer exhaustion without question -- are worth every moment.
We do these things for love. Because of love.
We do them because they count on us to grow and thrive in their environment. We are committed to be the best we can even when, we don't feel like it.
Comparatively, writing.
Your professional craft and passion.
We start articles, blogs and books with the greatest intentions. However, we sometimes hit road (writer) blocks and barriers. Without that commitment in place it is easy to throw in the towel. But you, are bigger than that.
I believe every creative and leader has a place in this niche.
Some, require more guidance than others – you might feel this as a loving nudge or inspiration.
The Butt Glue Crew course was designed for this. It was created to help you position your month, week or even your day on the right conscious and committed level. It allows for the opportunity to work with an International Bestselling Author and Awakening Coach – to help inspire and elicit that creativity from you.
Guidance.
Accountability.
Strategy.
Execution.
In the last quarter of 2017 I was privileged to have and deliver an interview on WordPress with Christine Ray who is a successful blogger who grew her readership to more than 79,000 views and growing, (at the time).
One of the key takeaways for me, was this sentence '…I decided that I was committed to the blog … '.
All great things require a commitment.
And, I would love the opportunity to help support your talents, passion and creativity so that you can inspire others, be the leader you're meant to be, and share your big message that's meant to be heard.
To commit to your writing, and receive support, too, be sure to join my sacred writing group: 'The Butt Glue Crew', today.
Comments
Yes! I'd love to receive:
Free Tips, Info and Updates
on Writing and Living My Most Vibrant, Vital Life!