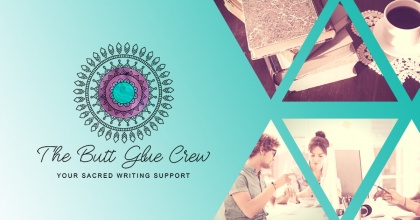 The Butt Glue Crew
Monday September 30, 2019
Location:
Online / live calls and writing parties
Are you ready to make your message heard?
Do you want to deliver content that creates massive impact and gets results?
Are you ready to (FINALLY) write and complete your book?
The Butt Glue Crew is a group of like-minded writers, leaders, entrepreneurs and social changemakers -- just like you -- ready to make their book(s) happen. Or write the content they know will get their message to those who need it (or both).
The Content Calls are Writing Parties in 'the Crew' connect you into conscious levels of energy and focus you may have never before experienced in writing. So you get the results you want, with the words that flow through you easily, and purposefully, for your most impactful writing.
Ready to act with the support and guidance of 'the Crew'?
This is your opportunity to work with an International Bestselling Author and Awakening Coach on your book.
The one you have wanted to write – perhaps even for some time now.
You can also write your best marketing material - blogs, video scripts, anything you need to expand your platform and get your message to those who need it.
And, readers are ready to receive your message.
Your story.
Your narrative.
Your powerful content that creates impact in this world.
Through guidance and accountability, let's deliver it.
You will have a chance to connect on our monthly content calls, and that will have you writing each month, feverishly, fiercely, like you never imagined you could.
Take advantage of the benefits of being involved in an exclusive community like The Butt Glue Crew.
The rewards are endless – and the process is priceless.
You've got to make it sacred. Connect in.
Your writing time is so essential to your writing process, especially if you're working on a bigger project like a book.
Having accountability is one of the BEST ways to make your writing time sacred - to honour it, cherish it, and have yourself sit your butt in the chair and let your words flow! (It's a big old bottle of Butt Glue... for that precious butt-in-chair time to support you.)
Connection with your craft. Live Writing Parties. Editorial Feedback.
What better way to give yourself accountability than a monthly Content Call to amp up your connection with writing, and a live group Writing Party with live editorial feedback on your writing and a powerfully connected group, dedicated to their writing.
It's a way to dive in and support you in making your writing time sacred. It's accountability, and support, and like-minded writers who are also going for it with their writing goals!
Learn more about making it sacred, with this video from Become a Published Author:
Here's what you receive when you join The Butt Glue Crew:
1 Monthly Content Call:
Get your month started right, and commit to your writing with a conscious, connected call that activates not only the energetics of your most focused writing, but also gives you tools to craft and hone your best writing.
Work with an International Bestselling Author and Awakening Coach with conscious, creative and unique techniques that will support your best writing and flow!
Receive guidance in the live Q & A portion of the call, and have your specific questions answered, clear fears and blocks and help yourself propel forward for a positively impactful month in writing!
Join the group energy of like-minded, powerful and impactful writers who are committed and dedicated to being in their writing flow!
1 Monthly Writing Party / Workshopping:
Receive the ultimate in accountability -- and fun! -- by joining the live monthly Writing Party where we meet on live video feed and write together!
Each month goes with the flow of the writing group for what will best support. This includes:
1) hunker-down writing sessions where you set an intention for your writing and let it flow during the Writing Party-- and, receive live editorial feedback from Jenny during the parties, and
2) workshopping sessions, where we go deeper into craft and support in workshopping specific pieces of writing within the group.
Content Calls are the 1st Wednesday of the month, 12pm EST. Writing Parties are the 3rd Wednesday of the month, 12pm EST.
To receive more information, click here.
Register